Wissel Watch: Lance Stephenson
Wissel Watch: Lance Stephenson from Behind the Arc
By C. Cooper on Nov 2 2013, 11:34pm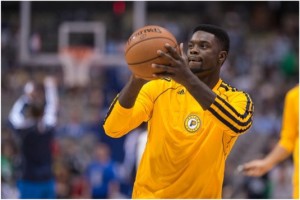 On Saturday versus the Cavaliers, Lance Stephenson went an impressive 5-for-7 from behind the three point line. Is Stephenson's work with acclaimed shooting coach, Hal Wissel, already paying off?
During the offseason, news that Lance Stephenson had been working with acclaimed shooting coach, Hal Wissel, was relayed here on Indy Cornrows. Choosing to work with Wissel was a move that Yahoo's Adrian Wojnarowski originally reported and described as follows:
"One of the wisest decisions a player made this summer? Indiana's Lance Stephenson choosing to work with fabled shooting coach Hal Wissel"
For those unfamiliar with the earlier post detailing Hal's background, he has quite a lengthy and extensive NBA resume. He has worked as an Assistant Coach with the Hawks, Warriors, Grizzlies, and Nets. He served as the Director of Player Personnel with the Nets, as well as, being hired on as an Advanced Scout with the Bucks and Mavericks. Hal has also written various books and launched a series of instructional camps and clinics. One of his most noteworthy ventures has been his work with his "Shoot It Better" clinics which are available to professional athletes.
Wissel has worked with numerous NBA players to help refine their shooting touch and improve their field goal percentages including the likes of Dale Ellis, Mike Miller, Matt Barnes, Pau Gasol, and Baron Davis.

This summer, by request, Hal paid some needed attention to his latest pupil, Lance Stephenson.
With regard to committing most of his offseason training time to improving his shot, Stephenson told Pacers.com writer, Mark Monteith:
"I've been working on my jump shot. It's better than last year and I'm going to try to bring it to the season."
Thus far, it seems that Hal Wissel's tutelage and Lance Stephenson's hard work have been a combination for success.
During Stephenson's first two seasons in the league, he shot a rather abysmal 4-for-35 from behind the three point arc (11%). Last season, he improved moderately to 33% shooting from downtown (stats via Real GM). On Saturday against the Cleveland Cavaliers, Lance went 5-for-7 from three point range (71%).
Although three games is an extremely limited sample size, Lance is already shooting 64% from three this season (9th best in the league).
While these marks are no doubt impressive, even without statistics, it would be easy for spectators to see that Lance's confidence shooting the ball, rhythm, and mechanics have definitely improved.
In reference to his new found confidence knocking down jump shots, Lance told Pacers.com writer, Scott Agness, the following about his working relationship with Wissel:
"I think he helped me out a lot. I just feel very confident & when I'm ready to shoot, I feel like they're going in [every] time"
As the season progresses, it will be interesting to see if Lance can continue to consistently "bring" his new and improved jumper each night over the course of an 82 game season.
If so, Hal Wissel will be able to add another star for a job well-done to an already impressive resume.